Perhaps the reason Holly Club of Joliet has endured for 133 years is because its members, while honoring and preserving the Club's rich tradition, are willing to break from it when the times require.
Thus, it is with much excitement that the women of Holly Club prepare for its first ever Party with a Purpose in lieu of the annual December Holly Club Ball. The event is scheduled to take place 6 – 11 p.m. on Friday, Nov. 4, at Mistwood Golf Club and is being chaired by long-time members Susan Lee and Connie Russell.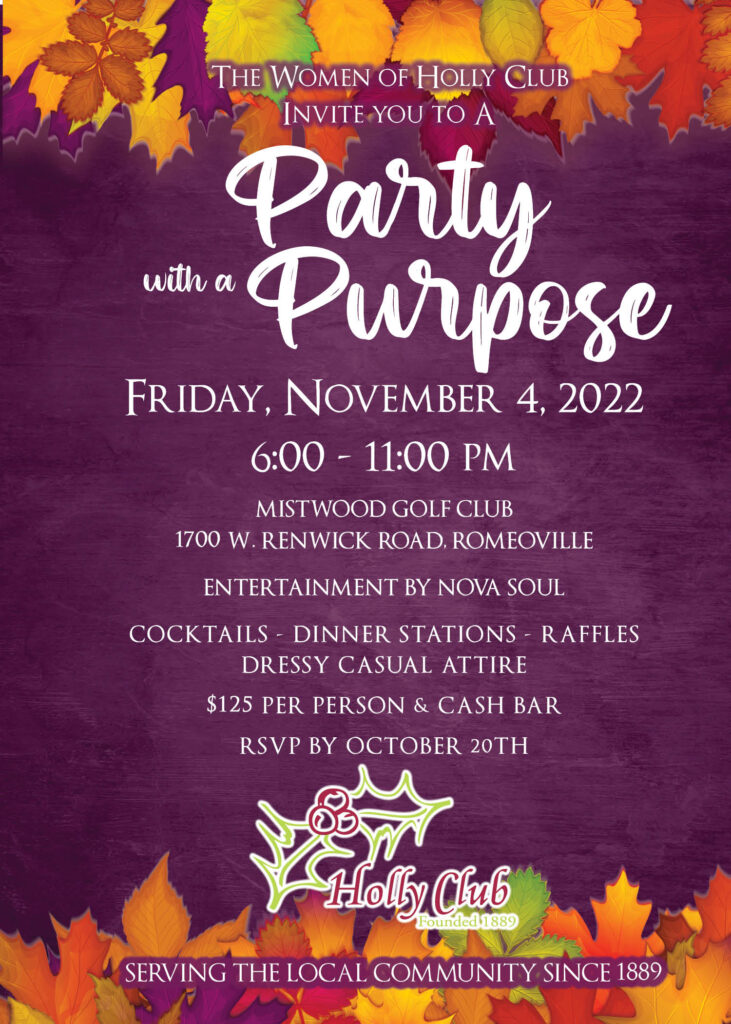 Remarked current Holly Club president Sandi Zang, "Our community has come to depend on Holly Club's enduring philanthropy, so eliminating the Ball without replacing it with another fundraiser was not an option. Last year our relatively small group of women raised and distributed $67,000 to worthy causes and organizations in the greater Joliet area."
Lee added, "Since we have all been under extra stress due to the Covid pandemic and a multitude of socio-economic issues, we wanted to simplify our annual fundraiser by transitioning to a less formal event that might appeal to a broader range of guests."
Continued Lee, "Party with a Purpose will be a fun and festive event but will also be more casual and affordable than the Ball and will not be competing with all the other holiday demands packed into the month of December. No worries about what fancy dress to wear or renting that expensive tuxedo. Party goers can enjoy an easy, affordable evening among friends who possess charitable hearts."
The choice of Mistwood Golf Club for the event was an easy one: "Mistwood, located in nearby Romeoville, is easy to get to, has ample parking, and is known for great food and quality service. The Great Hall banquet room is so warm and inviting with a Scottish-inspired décor perfect for fall decorating. We immediately felt a sense of excitement that it was 'meant to be' for this inaugural event," described Russell.
Many may wonder if this bodes the end of the Holly Club Ball for the future. Zang responded, "This may very well be a temporary change, determined by the response of our guests. It's nice to try something new that may appeal to a broader range of people."
Russell concluded, "For the $125 ticket price with cash bar, far less than what would have been required to fund our traditional Ball, guests can enjoy hors d'oeuvres, dinner stations, a raffle, and live music by Nova Soul."
For 133 years Holly Club has been raising funds to address the financial and emotional needs of the greater Joliet community, and that is the Purpose behind this Party!
To find more information about Party with a Purpose, including how to purchase tickets for the event and how to assist with sponsoring it, click on this image or the one above.