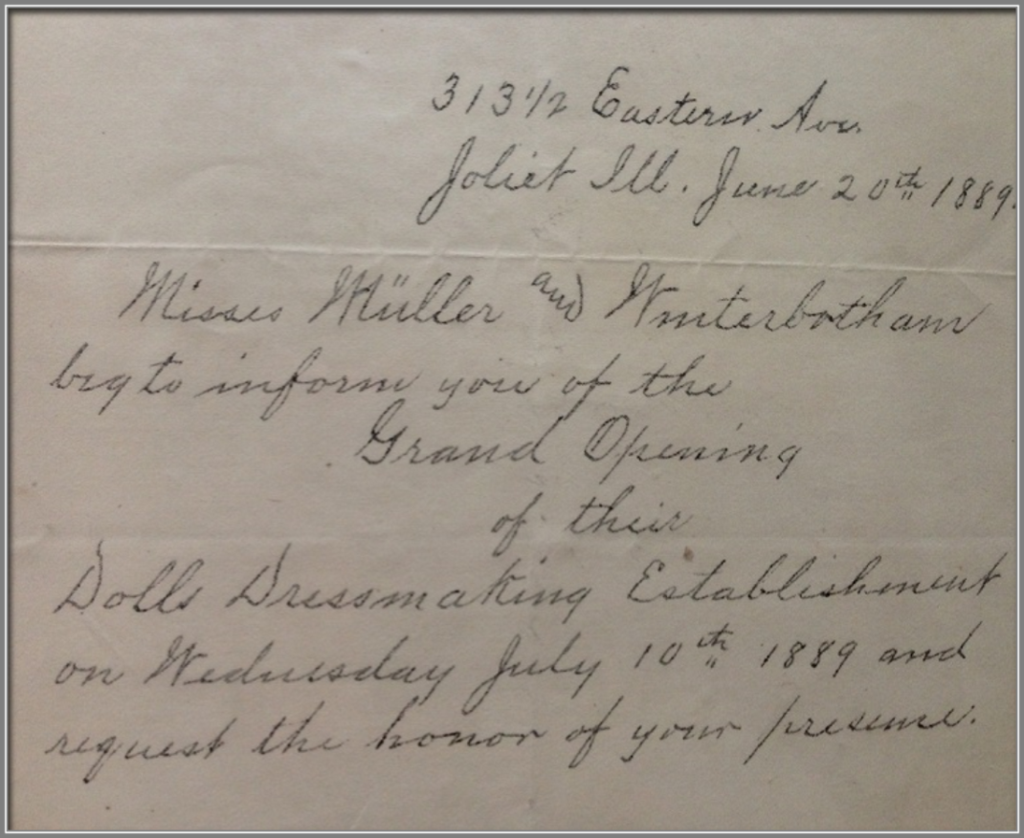 The affluence of the United States at the end of the 19th century did not reach everyone in Joliet. In the summer of 1889, the plight of the less fortunate in their rapidly growing community was a concern to a group of teenage girls gathered at a friend's house on Eastern Avenue in Joliet.
They knew preparations for Christmas weren't far off. They also knew that, year after year, Santa wasn't getting to every child and every sick person. To help the people Santa was missing, they brainstormed to find a fundraising project they could manage on their own. Taking in clothes that needed mending could bring them money to buy food, toys and medicines. But not all the girls knew how to sew. So they sent their circle of friends formal invitations to make doll clothes, on which they could hone their sewing skills.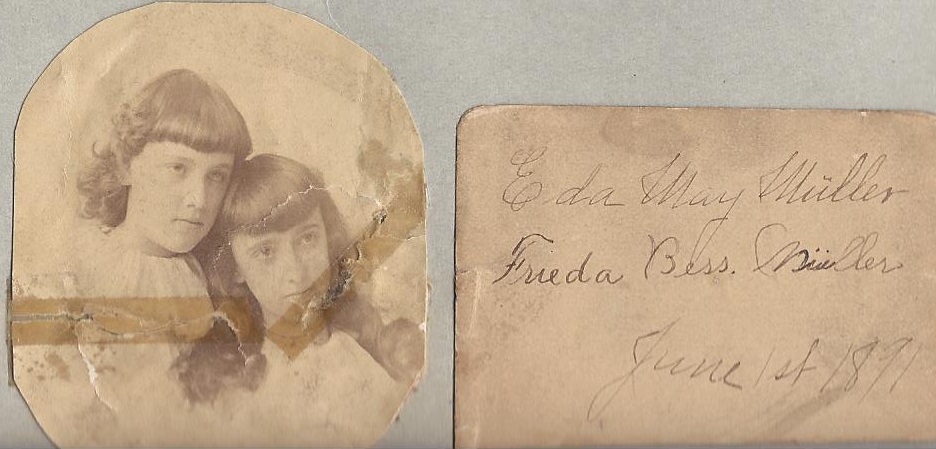 The oldest item in Holly Club's five-album archive is a handwritten invitation to a project called the Dolls' Dressmaking Establishment. The date of this event was July 10, 1889. The invitation was sent by two sisters, Eda May Müller and Frieda Bess Müller, and their friend Luritia "Rue" Winterbotham. By September 1889, these three teenagers and five of their friends (Gertrude Akin, Julia Cullom, Elsie Elwood, and another pair of sisters, Alice Knowlton and Edith Knowlton) were confident enough to start taking orders from community members.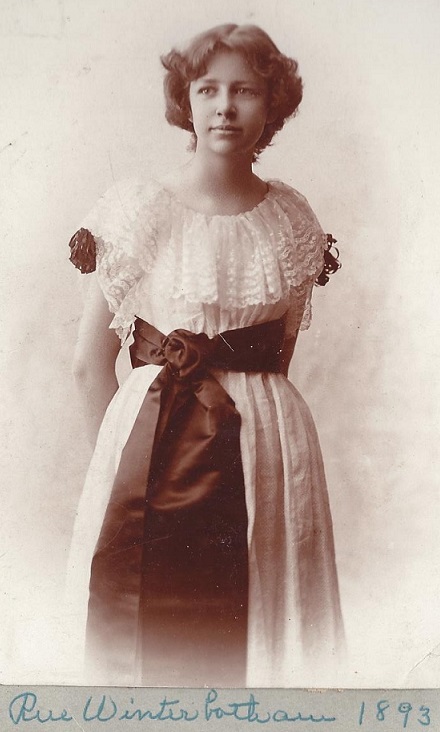 Under the guidance of Rue's mother, Genevieve Winterbotham, the eight teenagers involved in the sewing project founded the holiday-focused charitable organization they called the Young Maidens' Christmas Association. Rue Winterbotham, who later moved to Chicago, where she became renowned in the arts community – Rue Winterbotham Carpenter co-founded the Arts Club of Chicago. But at age 13, she was elected Holly Club's first president.
On their own, these teenagers raised enough money in 1889 to deliver holiday gift baskets to neighbors in need and to patients at St. Joseph Hospital. As their work at Christmastime gained recognition, the girls' brothers began teasing them about the name they had chosen for their service group. Was it the Young Maidens' Christmas Association, or the Young Monkeys Climbing Association? Their parents pointed out possible confusion with the already established YMCA (Young Men's Christian Association). The teenagers found another way to say Christmas. They chose "Holly Club."
Holiday food baskets and beyond – more than a century of charity
Over the decades, members of Holly Club have broadened the organization's focus from Christmas food baskets to a wide range of local charitable needs:
Rallying community interest in the benefits of public health nursing.
Supporting Silver Cross Hospital in its expansion and development.
Writing letters and folding bandages for casualties in World War I, World War II, and the Korean War.
Giving emotional support to the elderly.
Starting the first school lunch program for Joliet's most needy children in the years before governmental bodies accepted this responsibility.
Sensing first responders' need for trauma counseling in the wake of the 1990 tornadoes in Crest Hill and Plainfield, launching a psychosocial services program later expanded to serve family members of rape victims.
Providing winter coats, hats and mittens to Joliet School District 86 children in need.
Recognizing the importance of education by presenting nursing and volunteerism scholarships.
In addition to these projects, Holly Club has an ongoing involvement with local charities bringing direct assistance to our community residents.
The economic growth of Will County since 1889 has been a magnet attracting people to Joliet from all over the region and all over then world: People looking for the American dream. This expanding and divergent population presents increasingly more complex problems.
Holly Club answers calls for help by growing numbers of people who are not poor enough to qualify for government aid, yet whose limited income makes providing basic necessities for their family a real and continuing challenge.
Holly Club charities have benefited from the Winterbotham Fund, established as a gift in memory of Rue Winterbotham Carpenter, the club's first president, and the Lambrecht Fund, established with a generous gift from member, Patricia Kassis Lambrecht and her husband, Thomas. The club has also been fortunate in the sustained contributions of its loyal patronesses. Their generosity in supporting the annual Holly Club Ball, and the philanthropy of individuals and corporations have ensured that Holly Club is able to meet these growing calls for help.
Our axiom that the quality of life in a community depends upon the health and welfare of the whole is as true today as it was in 1889. Holly Club members continue to act on the belief that the greatest gift is charity.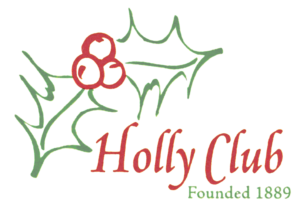 In the News
The commitment that Holly Club members bring to addressing Joliet's needs has made headlines since the 1890's. Here are a few prominent examples.

Joliet Daily News
February 1895
This article includes a poem, written by our founders, about Holly Club's origins. Click on the image to enlarge it.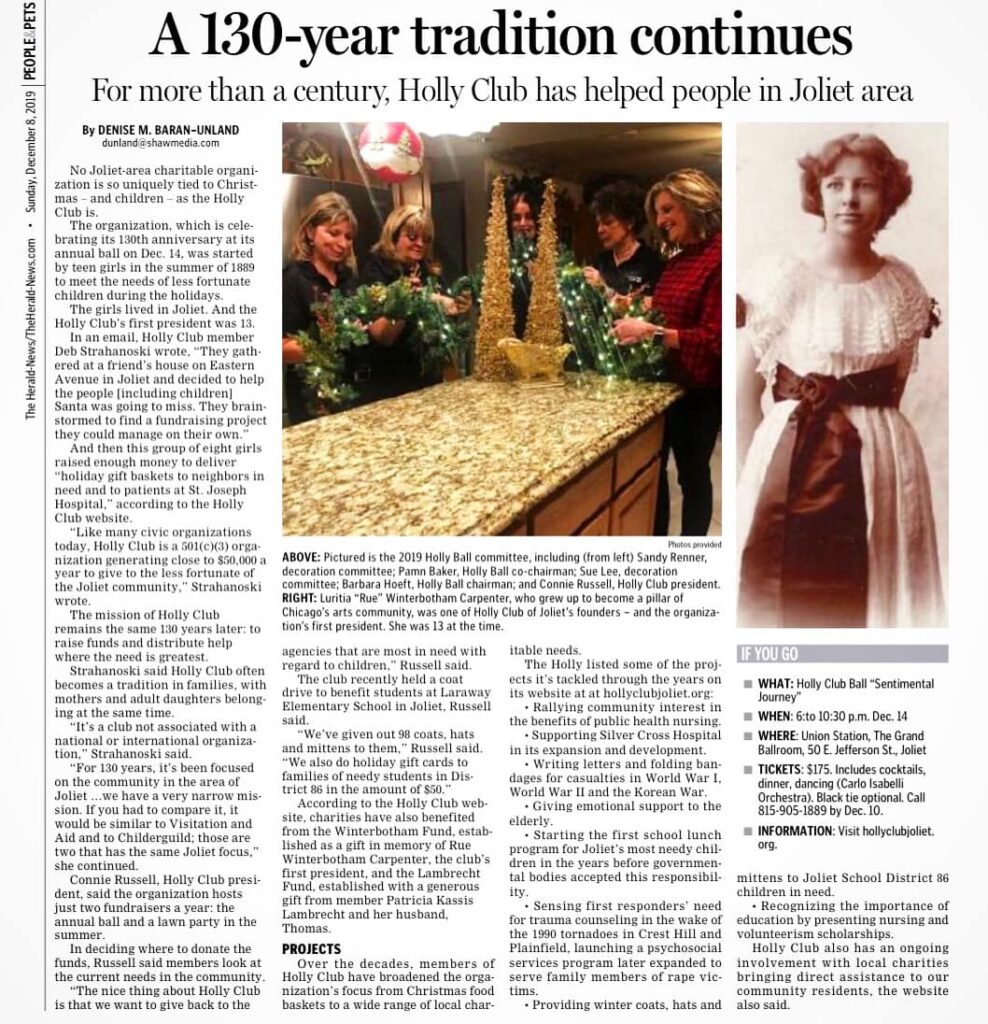 Joliet Herald-News
December 8, 2019
Click on the image to enlarge the article about the celebration that marked Holly Club's 130 years of service to the community.
Help us continue this legacy
We are always accepting new members. If you would like to join Holly Club of Joliet, find details about membership by clicking the Join Us button.