Dear Applicant for the Barbara J. Rakoski / Cathie A. Tonkin Volunteerism College Scholarship,
Holly Club of Joliet was founded in 1889 by a small group of young women who had a heart for service and wanted to help the less fortunate within their own community. It is fitting, then, that today Holly Club awards scholarships every year to young people who also demonstrate a heart for service.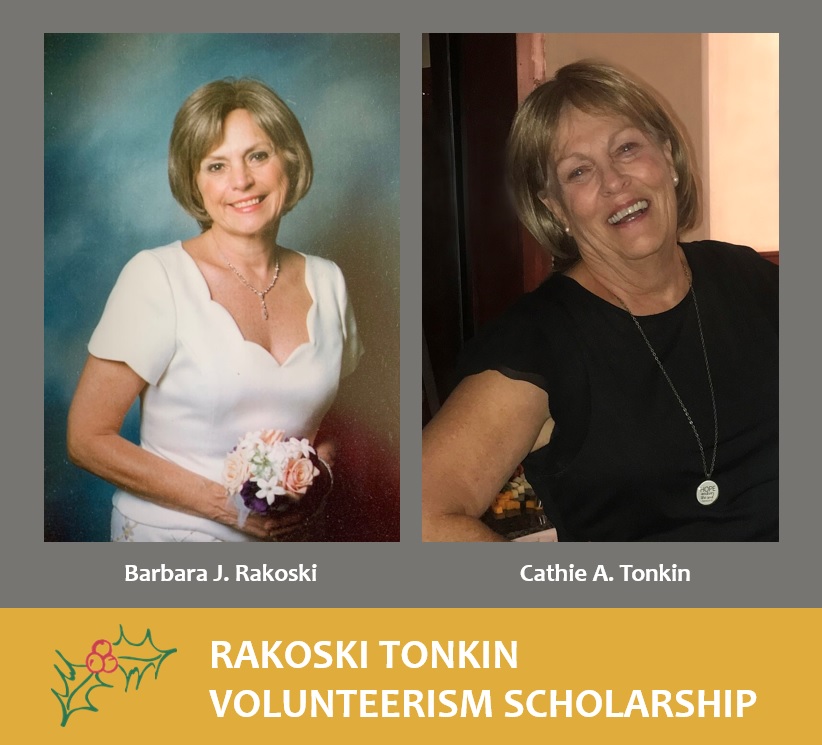 The Barbara J. Rakoski and Cathie A. Tonkin Volunteerism College Scholarship is named for the two Holly Club members who spearheaded the award and who faithfully served the club for years. Barbara Rakoski joined Holly Club in 1984 and was an active member until her passing in 2003. After Barb's death, Cathie Tonkin chaired the volunteerism scholarship committee for more than a decade. At the time of her passing in 2020, Cathie was a Holly Club Patroness.
Holly Club scholarships are one way in which members demonstrate commitment to the youth in our community. We hope to recognize and encourage young people who are already exhibiting the practice of being outward focused and showing gratitude through the act of giving back.
Consequently, while we wish to award students (male or female) whose GPA and college entrance scores demonstrate the ability to succeed in post-high school academics, it is the characteristic of desiring to serve that is the most important in the selection process.
Every year, three recipients pursuing a two-year or four-year degree will be awarded a one-time $1,000 scholarship. Application materials are being provided to 16 area high schools in the greater Joliet area; more than one winner per school is permissible.
Scholarship applicants will have to provide the following:
An electronically completed, typed application using the Word document found on this Dropbox link. (Please download from Dropbox and enable editing in read-only mode so that you can complete the fillable fields.)
Your resume.
A typed 250- to 500-word essay detailing how your various volunteer experiences have had an impact on you as well as on those whom you have served.
One letter of recommendation from an adult who supervises a volunteer activity in which you regularly participate. Details/anecdotes regarding your commitment to service are especially important.
Please check with your high school's counseling department to see if you attend one of the eligible schools. All application materials will be provided to those schools each year by early December.
Deadline for submission is February 15, 2021.
Sincerely,
Holly Club's Barbara J. Rakoski / Cathie A. Tonkin Volunteerism College Scholarship Committee
Barb Hoeft, Pat Pierson, and Sandy Renner